Blockchain, Fintech and the Impact of Coronavirus
Join us for a Virtual Masterclass on Blockchain, Fintech and the Impact of Coronavirus
EVENT TYPE
Conferences & Master classes
EVENT FORMAT
Local events
TIME
13:00 - 14:30 (GMT +02:00)
Blockchain, Fintech and the Impact of Coronavirus
The blockchain revolution is still in its infancy and highly reliant on big time funding. As market chaos mounts and coronavirus uncertainty persists, PE and VC investments are feeling the pressure. Even before the global health emergency was declared in late January, VC funding had started to cool and investors were already losing their appetite for money losing companies, including blockchain projects.
Meanwhile, banking incumbents are expanding custody and trading products to benefit from crypto inflows, and fintech leaders in traditional financial services are offering crypto products as well.
On the other end, the pandemic is forcing banks to significantly accelerate their shift to digital channels.
This master class will provide an overview on how the blockchain and the overall fintech industry are impacted by the corona virus crisis, also through the recent experience of Asian banks and their accelerated conversion to digitized core-banking processes.
About the Speaker
Paolo Giancane, CFA, is a serial angel investor in disruptive sectors and former partner for Mount Flag Capital, a Hong Kong-based merchant bank active in cross-border M&A and private equity investing.
Paolo has been exposed to the Chinese market since 2005 and has participated in several equity financings on behalf of Chinese clients and advised European clients in prospective investments in China as well as divestitures of European assets to Chinese buyers.
He worked at Lehman Brothers in New York and London from 1997 through 2002 in the corporate finance and leveraged finance teams. He was a Director at UniCredit Investment Banking in Milan, Beijing and Hong Kong from 2002 through 2009.
Currently, he is an investor and advisor in Skinlabo.com, Italy's #1 digital native vertical brand in the beauty care segment and expanding internationally; in eLegere.com, a cutting-edge software house designing data collection and data integration B2B solutions aiming China expansion, and Letsell.com, an e-commerce platform start-up.
Paolo holds a MSc in Finance from London Business School and a BA Degree from Bocconi University in Milan. He teaches classes like "Investment Banking in the APAC Region" blockchain and cryptocurrencies at IE Business School.
Our speakers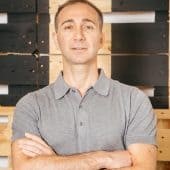 Managing Director and Board Member, Mount Flag Capital
Paolo has an MSC in Finance from London Business School and a BA Degree from Bocconi University in Milan. He teaches Investment Banking at the IE Master in Finance, executive programs for IE School of Architecture and also gives on-the-ground master classes throughout Asia and Australia.
Share event