China Outbound M&A and VC Investments - Drivers and Trends
Masterclass
EVENT TYPE
IE Informative sessions
EVENT FORMAT
Global events
TIME
17:30 - 18:30 (GMT +02:00)
China Outbound M&A and VC Investments - Drivers and Trends
IE Business School would like to invite you to its next Virtual Masterclass for its masters Master in Finance Programs. These sessions are aimed at giving prospective candidates, who are unable to visit our Madrid campus, the opportunity to experience a finance class at IE.
The objective of the master class is to provide participants with an overview of the current status of China outbound M&A activity and VC investments. Which factors are behind the surge of dealmaking in few sectors and which can explain the drop in others? Prof. Giancane, CFA, through his 20-year-plus investment banking and VC experience across Europe, the US and China, will present his views, a combination of fundamentals of dealmaking and current draws from the environment bankers are facing these days. Moreover, the discussion will touch on digital native vertical brands (DNVBs), a new hot topic of venture capital investing in the revolutionized retail/consumer sector.
Our speakers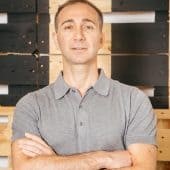 Managing Director and Board Member, Mount Flag Capital
Paolo has an MSC in Finance from London Business School and a BA Degree from Bocconi University in Milan. He teaches Investment Banking at the IE Master in Finance, executive programs for IE School of Architecture and also gives on-the-ground master classes throughout Asia and Australia.
Share event