IE University and Allen & Overy Legal Challenge for Europe and Central Asia
Join our Law Challenge!
DATE
From : 21st February 2022
To : 24th February 2022
TIME
18:00 - 18:00 (GMT +01:00)
EVENT FORMAT
Global events
IE University and Allen & Overy Legal Challenge for Europe and Central Asia
Future lawyers must be equipped with the tools necessary to meet the demands of new clientele, preparing them to stand out as they define new legal frontiers. As the legal sector transforms, lawyers are required to have a new set of knowledge and skills in order to stay ahead of the curve.
Are you ready to embrace it?
Come and join IE University and Allen & Overy Legal Challenge for Europe and Central Asia, where selected participants will be invited to the exclusive opportunity to experience a class like project, join our prestigious Master of Laws (LL.M.) with a 25% scholarship and participate in a shadowing program at Allen & Overy in the Madrid office during the duration of your program.
On February 21st, 2022, participants will join a virtual session with IE professors representing the case each postgraduate diploma specialization (International Business Law, International Dispute Resolution and Intellectual Property& Technology Law) to give a real-world account of the case intricacies, just like in a real IE University class.
After the presentation, each participant will be assigned to a mixed nationality teams of bright colleagues and start to work together for the next 72 hours.
The teams will then reconvene and pitch their cases in front of the jury composed of IE Faculty and Allen & Overy executives on the 24th of February.
Each specialization will have a separate team of winners, receiving the above mentioned prizes.
Are you up for the challenge? Sign up today!
Deadline for applications: 14th of February
*Please keep in mind that this challenge is oriented towards candidates currently residing in Europe and Central Asia and who have either completed a Law degree or are currently pursuing one.
Our speakers
IP&Tech Specialization
Professor Panezi is an expert in law and technology and intellectual property.
She specializes in Internet law and policy, intellectual property law, with an emphasis on digital copyright, as well as data protection, intellectual goods management, automation, machine learning and AI.
IBL Specialization
Professor Leon Anidjar is an Assistant Professor in Business Law at IE University. Currently, he is completing another doctoral degree at the Strategic Management & Entrepreneurship department at the Rotterdam School of Management of Erasmus University in the Netherlands.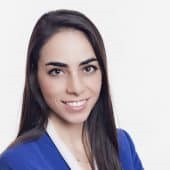 IDL Specialization
Krystle M. Baptista Serna is a lawyer specialized in litigation and arbitration. She is an associate at the best known Spanish arbitration boutique, Armesto & Asociados, where she takes part in commercial and investment arbitrations proceedings mostly as secretary to the tribunal.
Share event